Explore Special Offers & White Papers from AFS
HEADLINES TODAY
Wheat prices overnight are up 5 in SRW, up 4 in HRW, up 3 1/2 in HRS; Corn is down 1 1/4; Soybeans up 6 3/4; Soymeal down $0.23; Soyoil up 1.23.
For the week so far wheat prices are up 41 1/2 in SRW, up 52 1/4 in HRW, up 47 1/4 in HRS; Corn is up 33 1/4; Soybeans up 70 1/4; Soymeal up $3.33; Soyoil up 0.89. For the month to date wheat prices are down 75 1/4 in SRW, down 70 3/4 in HRW, down 57 3/4 in HRS; Corn is down 20 1/4; Soybeans down 67 1/2; Soymeal up $8.80; Soyoil down 5.28.
Year-To-Date nearby futures are up 4% in SRW, up 9% in HRW, down -6% in HRS; Corn is up 0%; Soybeans up 17%; Soymeal up 15%; Soyoil up 9%.
Chinese Ag futures (SEP 22) Soybeans up 56 yuan; Soymeal up 51; Soyoil up 30; Palm oil down 128; Corn up 15 — Malaysian palm oil prices overnight were up 66 ringgit (+1.74%) at 3853.
There were no changes in registrations. Registration total: 2,653 SRW Wheat contracts; 0 Oats; 0 Corn; 0 Soybeans; 194 Soyoil; 0 Soymeal; 1 HRW Wheat.
Preliminary changes in futures Open Interest as of July 26 were: SRW Wheat down 1,209 contracts, HRW Wheat down 817, Corn down 2,463, Soybeans down 8,327, Soymeal up 2,983, Soyoil down 510.
Northern Plains Forecast: Mostly dry Wednesday-Friday. Isolated showers Saturday. Temperatures near to below normal through Friday, near to above normal Saturday. Outlook: Isolated showers Sunday. Mostly dry Monday-Wednesday. Isolated showers Thursday. Temperatures near to above normal Sunday, above normal Monday-Thursday.
Central/Southern Plains Forecast: Isolated to scattered showers through Saturday. Temperatures near to below normal north and above normal south through Saturday. Outlook: Isolated to scattered showers Sunday. Mostly dry Monday-Thursday. Temperatures near to below normal north and above normal south Sunday, near to above normal Monday, above normal Tuesday-Thursday.
Western Midwest Forecast: Scattered showers through Thursday. Mostly dry Friday-Saturday. Temperatures near to below normal through Saturday.
Eastern Midwest Forecast: Scattered showers through Thursday. Mostly dry Friday-Saturday. Temperatures near to above normal Wednesday-Thursday, near to below normal Friday-Saturday. Outlook: Scattered showers Sunday-Tuesday. Mostly dry Wednesday-Thursday. Temperatures near to above normal Sunday-Monday, above normal Tuesday-Thursday.
The player sheet for 7/26 had funds: net buyers of 12,500 contracts of  SRW wheat, buyers of 9,000 corn, buyers of 13,500 soybeans, buyers of 7,000 soymeal, and  buyers of 7,500 soyoil.
TENDERS
WHEAT PURCHASE: Jordan's state grains buyer purchased about 60,000 tonnes of hard milling wheat to be sourced from optional origins in a tender which closed on Tuesday, traders said. It was believed to have been bought from trading house Cargill at an estimated $405.75 a tonne c&f for shipment in the second half of December, they said. Traders said three other trading houses participated in the tender with their offers in dollars a tonne c&f – CHS offering $413.50, Viterra $422 and Ameropa $430.
WHEAT PURCHASE UPDATE: Traders bought up to seven shipments of French wheat aimed for Pakistan as part of a 300,000 tonne tender last week for shipment between Aug. 1-25, European traders said, in a further sign that importing countries are turning to western Europe to fill a gap left by missing Black Sea grain. Traders, however, said it still could not be ruled out that some Russian wheat could be supplied in the tenders.
PENDING TENDERS
WHEAT TENDER UPDATE: The lowest price offered in a tender from Pakistan to purchase 200,000 tonnes of wheat for shipment Sept. 1-16, which closed on Monday, was believed to be $407.49 a tonne c&f, European traders said in initial assessments. The state agency Trading Corporation of Pakistan (TCP) was still considering the offers and no purchase had been reported, traders said on Monday. The lowest offer was said to have been submitted by trading house Falconbridge.
BARLEY TENDER: Jordan's state grains buyer issued an international tender to purchase 120,000 tonnes of animal feed barley, European traders said. The deadline for submission of price offers in the tender is July 27.
RICE TENDER: South Korea's state-backed Agro-Fisheries & Food Trade Corp issued an international tender to purchase an estimated 92,100 tonnes of rice to be sourced from the United States, China and other origins, European traders said. The deadline for registration to participate in the tender is Aug. 3.
ETHANOL: US Weekly Production Survey Before EIA Report
Output and stockpile projections for the week ending July 22 are based on six analyst estimates compiled by Bloomberg.
Production seen slightly lower than last week at 1.032m b/d
Stockpile avg est. 23.648m bbl vs 23.553m a week ago
CROP TOUR DAY ONE: N.D. Spring Wheat Yield Seen at 48.9 Bu/Acre
Spring-wheat yield estimate for the top US growing state of North Dakota is 48.9 bu/acre on the first of a three-day crop tour across the state.
Estimate is based on 120 fields
That's up from est. 29.5 bu/acre on the first day of the tour last year, when extreme drought slashed output
Yield est. for durum wheat, which is used for high-protein pasta, is 41.4 bu/acre vs est. 26.5 bu/acre a year ago
Related: Wheat Market Turns to North Dakota for First Look at US Crop
NOTE: The Wheat Quality Council is hosting the crop tour that runs through Thursday
CROP TOUR: Spring Wheat Seen at 60.2 Bu/Acre in SE North Dakota
Spring-wheat yields averaged 60.2 bu/acre after four stops along a route in southeast North Dakota, according to crop scouts.
"We are finding some very nice looking spring wheat fields. They look to be above average," Tom Bernhardt, a farmer and president of the North Dakota Grain Growers Association, said on the first day of a Wheat Quality Council tour
NOTE: If the midday estimate holds it will mark the biggest projected yield since 2016 for the same route on first day of the tour, according to the council
NOTE: Estimated yield for the same route last year was 27.9 bu/acre amid severe drought
Indonesia Begins Road Test for B40 Palm Oil Biodiesel Mandate
Twelve vehicles will drive up to 50,000 km around Java island in testing the fuel that will have 40% palm oil content, says Dadan Kusdiana, Director General of New and Renewable Energy at the Energy and Mineral Resources Ministry in Jakarta on Wednesday.
"This is the final step of the entire testing phase," says Kusdiana
Ministry aims to finish the test by year-end
Brazil soy exports seen reaching 7.39 mln tns in July – Anec
BRAZIL SOY EXPORTS SEEN REACHING 7.39 MILLION TNS IN JULY VERSUS 7.79 MILLION TNS FORECAST IN PREVIOUS WEEK – ANEC
BRAZIL SOYMEAL EXPORTS SEEN REACHING 2.1 MILLION TNS IN JULY VERSUS 2.2 MILLION TNS FORECAST IN PREVIOUS WEEK – ANEC
BRAZIL CORN EXPORTS SEEN REACHING 6.09 MILLION TNS IN JULY VERSUS 5.9 MILLION TNS FORECAST IN PREVIOUS WEEK – ANEC
EU Soft-Wheat Exports Rise 36% Y/y; Italy Data Incomplete
EU soft-wheat exports during the season that began July 1 totaled 1.4m tons as of July 24, compared with 1.03m tons in a similar period a year earlier, the European Commission said Tuesday on its website.
Top destinations were Morocco (434k tons), Jordan (142k tons) and Algeria (133k tons)
NOTE: Trade figures, especially for Italy, may be incomplete, commission says

The weekly reports have recently been delayed by technical issues

EU barley exports at 280k tons, against 1m tons a year earlier
EU corn imports at 1.01m tons, compared with 851k tons a year earlier
Russia Can't Rule out Disruption Risk to Ukraine Grain Deal: IFX
Russia can't rule out the risk of disruption to the deal to restart Ukraine's grain exports, if obstacles to Russian agricultural exports are not eliminated, Interfax reported, citing comments by Deputy Foreign Minister Andrey Rudenko in Moscow.
NOTE: Russia has continued shipping big volumes of wheat since the war began, and started the new season exporting wheat at almost twice the speed of last year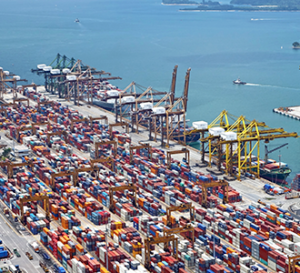 Turkey Says Ukraine Grain Exports Could Start Within a Week
President Erdogan's spokesman Kalin speaks on grain corridor
Ukraine expected to ship up to 25m tonnes in 2022: Kalin
Turkey said grain exports from Ukrainian ports could resume within a week and reach 25 million tonnes by the end of the year, after it brokered a deal between Kyiv and Moscow that eased fears of a global food crisis.
Exactly when exports halted by Russia's invasion would begin will be determined by logistical groundwork, Turkish President Recep Tayyip Erdogan's spokesman, Ibrahim Kalin, said in an interview on Tuesday.
As many as 100 vessels carrying grain and agricultural products were trapped in Ukrainian ports when war broke out. The United Nations expects the first to move within a few days, and an adviser to global insurers has proposed a mechanism that might help cover the trade.
A truck unloads barley at a grain terminal in Odesa region, Ukraine, on June 22.
Still, hitting Kalin's forecast for exports by December could be a challenge. Analysis firm UkrAgroConsult says that the Black Sea ports in question — Odesa, Chornomorsk and Pivdennyi — have a maximum combined capacity of 3.5 million tons a month.
Russian Odesa Missile Strike Tests Ukraine Grain Export Deal
Turkey is due to open a joint operations center with Ukraine, Russia and the UN on Wednesday to coordinate trade under the agreement.
A Russian missile strike on Odesa after the deal was reached raised doubts about Moscow's commitment to the accord, but Kalin dismissed the concerns. The UN later said all sides had reconfirmed their intent to make the deal work.
The agreement capped months of diplomacy by the Turkish leader, who has struck a delicate balance since Russian troops entered Ukraine in February.
NATO member Turkey has been vocal about its support for Ukraine and a company headed by Erdogan's son-in-law has provided dozens of armed drones to bolster the Ukrainian military. Yet Ankara refrained from joining sanctions targeting Russia and kept lines of communication open with President Vladimir Putin.
Ukraine, Russia Reach Deal to Unblock Grain Stranded by War
"If everyone burns bridges with Russia, who'll talk to them? We have seen [with this agreement] how important Turkey's balancing act is," Kalin said.
Argentine Central Bank Creates Incentive for Farmers to Sell USD
Argentina's Central Bank created new mechanisms to encourage soy farmers to sell dollars in the official exchange market, according to an official statement published Tuesday.
Argentine farmers will be able to invest the 70% of crop export sales in USD-linked deposits in financial entities
Argentine farmers will be able to use 30% of crop export sales to buy dollars at the official exchange rate plus the payment of two taxes known as the "impuesto pais" and the AFIP tax
Measure in effect until August 31
Manitoba Says Spring Wheat Crop in Good-to-Excellent Condition
75% of spring wheat crops in the southwest in good condition and 20% in excellent condition, the province's agriculture ministry says Tuesday in a report.
Majority of spring wheat crops in good-to-excellent conditions in other regions, except for the Interlake region where only 40% in good condition and 10% rated poor and 10% rated very poor
Canola crops are variable, with some in excellent condition and others in poor shape
Frequent rains and warm temperatures have elevated risk for fungal disease
Rain has made fungicide spraying challenging
EU soybean imports by July 24 at 890,412 T, rapeseed 379,555 T
European Union soybean imports in the 2022/23 season that started on July 1 reached 890,412 tonnes by July 24, data published by the European Commission showed on Tuesday.
That compared with 966,648 tonnes by the same week in the previous 2021/22 season, the data showed.
The Commission said the released data might not be complete to July 24, especially for Italy.
EU rapeseed imports for July 1-24 reached 379,555 tonnes, compared with 252,202 tonnes in 2021/22, the data showed.
Soymeal imports over the same period totalled 1.02 million tonnes against 854,907 tonnes the prior season, while palm oil imports stood at 111,419 tonnes versus 411,218 tonnes in 2021/22.
EU sunflower oil imports, most of which come from Ukraine, were at 96,673 tonnes, against 112,683 a year earlier, the data showed.
Ukrainian corn production slightly up amid recently improved weather conditions – Refinitiv Commodities Research
2022/23 UKRAINE CORN PRODUCTION: 25.5 [23.0-28.1] MILLION TONS, UP <1% FROM LAST UPDATE
With recently improved weather and slightly raised yields we fractionally increase corn production prospect to 25.5 [23.0-28.1] million tons (mmt). National-level yield is currently placed at 5.67 tons per hectare.
Past two weeks featured favorable conditions for corn in Ukraine. Temperatures across the country dropped below average and most top corn producing regions received near normal or above average rainfall. Cooler temperatures and rainfall surpluses were beneficial for the pollinating corn crop soon to enter grain fill. Crop vegetation density levels are above average in most of oblasts and up from last update across the country indicating improved crop conditions.
Latest weather forecast calls for continuation of cooler than average conditions with locally observed warmth. Precipitation-wise, upcoming days will feature rather dry conditions across Ukraine with below average rainfall expected. In few days conditions should improve. Near or above normal rainfall is likely across most of oblast, supporting beneficial conditions for corn crops. Cool and wet weather should continue to increase corn yield potential. On the other hand, heat and dry conditions could have adverse impacts on corn production.
Ukrainian wheat production prospects maintained with favorable harvesting conditions – Refinitiv Commodities Research
2022/23 UKRAINE Wheat PRODUCTION: 21.0 [19.9-22.4] MILLION TONS, UNCHANGED FROM LAST UPDATE
2022/23 Ukraine wheat yield prospects are fractionally raised to 3.71 tons per hectare on largely favorable harvest weather. Current production outlook is sustained at 21.0 [19.9-22.4] million tons (mmt).
Past two weeks featured favorable conditions for wheat across Ukraine. Cooler than average temperatures were noted across all oblasts. Precipitation-wise, a split pattern was observed with near normal or above average rainfall in north-eastern Ukraine and drier conditions noted in south-eastern regions. This cooler weather with near normal precipitation created beneficial conditions for wheat in last stages of grain fill. Latest NDVI analysis shows an increase of crop vegetation density across Ukraine indicating improved crop conditions and yield potential. We have adjusted yield estimates accordingly. Recent weather was also beneficial for harvesting gaining momentum. Around 1.2 million hectares (3.8 million tons) were already threshed by Ukrainian farmers, according to latest report of Ministry of Agrarian Policy and Food of Ukraine.
Latest weather forecast calls for a continuation of cooler than average conditions with locally observed warmth. Upcoming days will bring below or near normal rainfall across main wheat producing regions creating favorable conditions for progressing harvest campaign.
China, Indonesia hail 'win-win' cooperation after rare Beijing summit
The leaders of China and Indonesia pledged to scale up trade and expand cooperation in areas such as agriculture and food security, following a rare visit to COVID-wary China by a foreign head of state.
Indonesian President Joko Widodo met Chinese President Xi Jinping and Premier Li Keqiang in Beijing on Tuesday. China last hosted foreign leaders during the Winter Olympics in February, with Russian President Vladimir Putin among those who visited Beijing.
The commitment by China, Indonesia's No.1 trading partner, to deepen trade relations and fully back Indonesia's chairmanship of the Association of Southeast Asian Nations (ASEAN) next year is an economic and political win for Jokowi, as the Indonesian president is widely known.
China hailed Indonesia as a model strategic partner, in contrast to its sharp words for the United States in recent months over issues from Taiwan and Ukraine to trade practices and the South China Sea.
"(China and Indonesia) have acted proactively and with a strong sense of responsibility to maintain regional peace and stability," according to the joint statement.
"They have thus set an example of major developing countries seeking strength through unity and win-win cooperation."
Indonesia is an important source of ferronickel, coal, copper and natural gas for the world's second-largest economy.
In the first half of 2022, Chinese imports from Indonesia, mostly commodities, surged 34.2% on year, the most after Russia.
China has expressed commitment to import an additional one million tonnes of crude palm oil from Indonesia, said the Indonesian state palace.
Jokowi met Li and Xi at the Diaoyutai State Guesthouse, part of a sprawling complex of villas, lakes and gardens where many foreign leaders, including the late U.S. President Richard Nixon, have been received.
As president of the G20 this year, Jokowi has sought to mend rifts within the group exposed by Russia's invasion of Ukraine.
Last month he travelled to Ukraine to meet President Volodymyr Zelenskiy and also to Moscow to hold talks with Putin. Jokowi said Indonesia was willing to be a "communication bridge" between the two.
US Fertilizer Prices Keep Sinking; Nutrien Launches MOP Fill
Summer fill programs nudged US fertilizer prices lower again, with phosphate, ammonia and ammonium sulfate significantly below the spot market during the seasonal reset. Nutrien launched a muriate of potash (MOP) fill program at $765 a short ton at Midwest price points, down $40 from last week's high.
China Buys Belarus Potash as West Sanctions Tons: Weekly Wrap
China is still importing Belarusian potash, despite western sanctions that limit Belaruskali's ability to ship tons. China imported 4.1 million metric tons of potash during 1H, down 11% from 1H21. Belarus remained a significant supplier, accounting for 25% of China's monthly 1H imports. Belaruskali is seeking export alternatives to Lithuania, now inaccessible due to sanctions. Russia is a likely option, and Belaruskali reportedly signed a contract with St. Petersburg's Keystone Logistics to ship 2 million tons of potash in containers through Petrolesport, Neva-Metal and Vladivostok. Rail is a potential option; there are two direct trains to China.
Nutrien and Mosaic are the largest publicly traded potash producers. Belarus accounts for about one-fifth of the global potash trade.
Futures and options trading involve significant risk of loss and may not be suitable for everyone.  Therefore, carefully consider whether such trading is suitable for you in light of your financial condition.  The information and comments contained herein is provided by ADMIS and in no way should be construed to be information provided by ADM.  The author of this report did not have a financial interest in any of the contracts discussed in this report at the time the report was prepared.  The information provided is designed to assist in your analysis and evaluation of the futures and options markets.  However, any decisions you may make to buy, sell or hold a futures or options position on such research are entirely your own and not in any way deemed to be endorsed by or attributed to ADMIS. Copyright ADM Investor Services, Inc.
Latest News & Market Commentary