Archer Financial Services, Inc. (AFS)
Archer Financial Services is a relationship-driven futures brokerage firm that specializes in providing customers with superior service in all aspects of the futures markets. Our professional staff of experienced brokers has extensive market knowledge as well as expertise in risk management strategies and trade execution.
We customize our services for each of our institutional, commercial and retail customers, and ensure they are each matched with technology platforms that give their trading a cutting edge.
Archer Financial Services is a wholly owned subsidiary and Guaranteed Introducing Broker of ADM Investor Services. Together with our parent company, we are committed to offering the finest trade execution, market analysis and insight on the futures markets available in our industry.
ADM Investor Services, Inc. (ADMIS)
ADM Investor Services, Inc. has been a leader in the futures brokerage industry for more than 55 years. We are a registered Futures Commission Merchant that provides comprehensive services to retail, commercial and institutional clients. Our work is supported through a network of Introducing Brokers, non-clearing FCMs, branch offices, subsidiaries and sister companies across the United States and around the globe.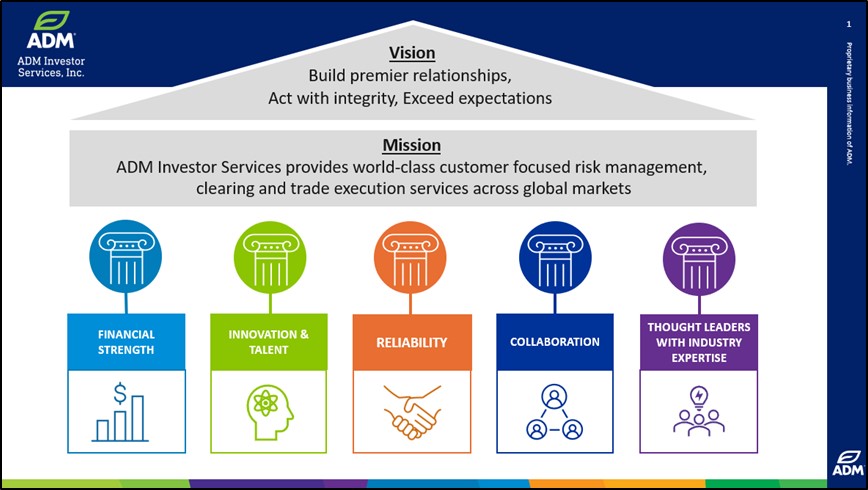 ADMIS roots reach back to the 1930's with the founding of Tabor Grain and Feed Company, an independently owned grain merchandising operation in Central Illinois. In 1956, the firm expanded to provide customers with investment banking and stock trading services. In 1966, the company changed its name to Tabor Commodities, became a clearing member of the Chicago Board of Trade, and began executing and clearing futures trades. In 1975, the Archer Daniels Midland Company of Decatur, Illinois acquired the firm and in 1985, we adopted the name we continue to use today. Explore more about us at www.admis.com.
Archer Daniels Midland (NYSE: ADM)
At ADM, we unlock the power of nature to provide access to nutrition worldwide. With industry-advancing innovations, a complete portfolio of ingredients and solutions to meet any taste, and a commitment to sustainability, we give customers an edge in solving the nutritional challenges of today and tomorrow. We're a global leader in human and animal nutrition and the world's premier agricultural origination and processing company. Our breadth, depth, insights, facilities, and logistical expertise give us unparalleled capabilities to meet needs for food, beverages, health and wellness, and more. From the seed of the idea to the outcome of the solution, we enrich the quality of life the world over. Learn more at www.adm.com
Latest News & Market Commentary