Explore Special Offers & White Papers from AFS
HEADLINES TODAY
Wheat prices overnight are down 6 in SRW, down 8 in HRW, down 5 1/4 in HRS; Corn is down 5 1/4; Soybeans down 10; Soymeal down $0.24; Soyoil down 0.69.
For the week so far wheat prices are down 6 3/4 in SRW, down 11 1/2 in HRW, down 5 1/2 in HRS; Corn is down 19 1/2; Soybeans down 55 1/2; Soymeal down $1.59; Soyoil down 1.69.
For the month to date wheat prices are down 14 in SRW, down 4 1/2 in HRW, down 1 1/4 in HRS; Corn is up 3; Soybeans down 66 1/4; Soymeal down $15.80; Soyoil up 0.64.
Year-To-Date nearby futures are up 4% in SRW, up 10% in HRW, down -7% in HRS; Corn is up 5%; Soybeans up 11%; Soymeal up 9%; Soyoil up 21%.
Chinese Ag futures (JAN 23) Soybeans down 58 yuan; Soymeal down 52; Soyoil down 156; Palm oil down 154; Corn down 1 — Malaysian palm oil prices overnight were up 62 ringgit (+1.50%) at 4187.
There were no changes in registrations. Registration total: 2,653 SRW Wheat contracts; 0 Oats; 0 Corn; 15 Soybeans; 149 Soyoil; 121 Soymeal; 1 HRW Wheat.
Preliminary changes in futures Open Interest as of August 15 were: SRW Wheat down 4,329 contracts, HRW Wheat down 991, Corn up 1,297, Soybeans up 2,592, Soymeal up 1,571, Soyoil down 2,230.
Northern Plains Forecast: Isolated showers through Thursday, mostly east. Mostly dry Friday. Temperatures above normal west and near to below normal east through Friday. Outlook: Mostly dry Saturday-Monday. Isolated showers Tuesday-Wednesday. Temperatures above normal west and near to below normal east Saturday-Sunday, near to above normal Monday-Wednesday.
Central/Southern Plains Forecast: Isolated to scattered showers through Thursday. Mostly dry Friday. Temperatures near to above normal Monday, near to below normal north and above normal south Tuesday, near to below normal Wednesday-Friday. Outlook: Mostly dry Saturday. Isolated to scattered showers Sunday-Wednesday. Temperatures near to below normal Saturday-Wednesday.
Western Midwest Forecast: Isolated to scattered showers through Friday. Temperatures near to below normal through Friday.
Eastern Midwest Forecast: Mostly dry through Thursday. Isolated to scattered showers Friday. Temperatures near to below normal through Thursday, near to above normal Friday. Outlook: Isolated showers Saturday-Monday. Mostly dry Tuesday-Wednesday. Temperatures near normal Saturday-Monday, near to above normal Tuesday-Wednesday.
Canadian Prairies Forecast:  Isolated showers through Wednesday. Temperatures above normal through Wednesday. Mostly dry Thursday-Friday. Temperatures above normal Thursday-Friday. Outlook: Mostly dry Saturday-Wednesday. Temperatures above normal Saturday-Wednesday.
The player sheet for Aug. 15 had funds: net sellers of 3,500 contracts of  SRW wheat, sellers of 11,000 corn, sellers of 17,000 soybeans, sellers of 7,000 soymeal, and  sellers of 5,000 soyoil.
TENDERS
WHEAT AND RICE TENDER: Iraq's state grains buyer issued tenders to buy a nominal 50,000 tonnes of milling wheat and 50,000 tonnes of rice with both to be sourced from the United States only
VEGETABLE OILS TENDER: Egypt's state grains buyer, the General Authority for Supply Commodities (GASC), set a local production tender for vegetable oils on Saturday, seeking 3,000 tonnes of soyoil and 1,000 tonnes of sunflower oil for arrival Oct. 1-25 and/or Nov. 1-20, 2022. The deadline for offers is Aug. 16.
WHEAT PURCHASE: Saudi Arabia's state grain buyer SAGO said it purchased 180,000 tonnes of wheat through the Saudi Agricultural and Livestock Investment Company (SALIC) for arrival between October 2022 and February 2023
PENDING TENDERS
WHEAT TENDER: Iranian state agency Government Trading Corporation issued an international tender to purchase about 60,000 tonnes of milling wheat
WHEAT TENDER: Jordan's state grain buyer issued an international tender to buy 120,000 tonnes of milling wheat, which can be sourced from optional origins
FEED BARLEY TENDER: Jordan's state grains buyer issued an international tender to purchase 120,000 tonnes of animal feed barley
FEED WHEAT AND BARLEY TENDER: Japan's Ministry of Agriculture, Forestry and Fisheries (MAFF) said it will seek 70,000 tonnes of feed wheat and 40,000 tonnes of feed barley to be loaded by Nov. 30 and arrive in Japan by Jan. 26 via a simultaneous buy and sell (SBS) auction that will be held on Aug. 19.
NOPA July soybean crush at 170.220 million bushels
The U.S. soybean processing pace rebounded in July from a nine-month low the prior month although crushings fell short of the average trade forecast, according to National Oilseed Processors Association (NOPA) data released on Monday.
NOPA members, which account for around 95% of soybeans processed in the United States, crushed 170.220 million bushels of soybeans last month, up 3.4% from the 164.677 million bushels processed in June and up 9.7% from the July 2021 crush of 155.105 million bushels.
The crush had been expected to rise to 171.525 million bushels, according to the average of estimates from 10 analysts in a Reuters poll. Estimates for the July 2022 crush ranged from 168.500 million to 177.000 million bushels, with a median of 170.928 million bushels.
Some soy processing plants have been taking seasonal maintenance downtime ahead of the upcoming harvest. The soy crush in July was larger than the prior month in Illinois, Iowa and in the Southeast and Southwest regions, but fell in eastern and northern Midwest states and in the northern Plains, NOPA data showed.
Soyoil supplies among NOPA members as of July 31 declined by more than expected to 1.684 billion lbs, an 11-month low. The stocks were down from 1.767 billion lbs at the end of June but up from 1.617 billion lbs a year ago.
Soyoil supplies at the end of July were expected to have tightened to 1.713 billion lbs, according to the average of estimates gathered from seven analysts. Estimates ranged from 1.600 billion to 1.807 billion lbs, with a median of 1.725 billion lbs.
US Crop Progress and Conditions for Aug. 14
Corn 57% G/E vs 58% last week, and 62% a year ago
Corn dented 16% vs 6% last week, and 20% a year ago
Corn dough 62% vs 45% last week, and 71% a year ago
Corn silking 94% vs 90% last week, and 98% a year ago
Soybeans 58% G/E vs 59% last week, and 57% a year ago
Soybeans blooming 93% G/E vs 89% last week, and 94% a year ago
Spring wheat 64% G/E vs 64% last week, and 11% a year ago
Spring wheat harvest 16% G/E vs 9% last week, and 55% a year ago
Winter wheat harvest 90% vs 86% last week, and 97% a year ago
Cotton 34% G/E vs 31% last week, and 67% a year ago
Sorghum 27% G/E vs 29% last week, and 60% a year ago
US Inspected 538k Tons of Corn for Export, 745k of Soybean
In week ending Aug. 11, according to the USDA's weekly inspections report.
Wheat: 373k tons vs 636k the previous wk, 594k a yr ago
Soybeans: 745k tons vs 871k the previous wk, 278k a yr ago
Corn: 538k tons vs 556k the previous wk, 793k a yr ago
Ukraine says it can export 3 million tonnes of grain from ports next month
Ukraine can export 3 million tonnes of grain from its ports in September and may in the future be able to export 4 million tonnes from them monthly, Deputy Infrastructure Minister Yuriy Vaskov said on Tuesday.
He said Ukraine had received applications for 30 ships to come to Ukraine in the next two weeks to export grain.
Ukraine's grain exports have slumped since Russia invaded on Feb. 24 and blockaded Ukrainian Black Sea ports, but three Black Sea ports were unblocked last month under a deal between Moscow and Kyiv that made it possible to send hundreds of thousands of tonnes of Ukrainian grain to buyers.
Ukraine Crop-Export Pace Unclear; Russia Wheat Crop Swells: UAC
Grain shipments from Ukraine's newly reopened Black Sea ports are still in a trial phase and market participants are assessing prospects going forward, Kyiv-based analyst UkrAgroConsult said in a note.
"UkrAgroConsult cannot yet confidently say that Ukraine will be able to fully realize its grain-export potential"
Most buyers are not yet ready to purchase grain on an FOB basis; there could be an increase in C&F contracts soon, which would shield buyers from transportation risks
If seaborne exports continue at a similar or better pace than last week, Ukraine might again become a player in international crop tenders
ON RUSSIA:
This year's Russia wheat harvest is now seen at 86.4m tons, up 1m tons from a prior estimate
Outlook takes into account favorable weather that aided yields across Russia's grain belt and latest harvest data
Meanwhile, barley and corn output prospects are down slightly
Brazil ships DDGS to Vietnam, exports rise as corn ethanol production booms
A cargo of distiller's dried grains with solubles (DDGS) left Brazil's port of Paranagua on Monday, as shipping of the livestock feed ingredient becomes more frequent after Brazilian companies started producing ethanol from corn.
A vessel carrying about 55,000 tonnes of DDGS set sail at 1 a.m. local time (0400 GMT) headed to Vietnam, the Paranagua port authority said.
DDGS is a nutrient-rich co-product of corn ethanol production, and a likely rise in Brazilian exports reflects higher corn-based ethanol production domestically.
Brazilian corn ethanol output is estimated at 4.5 billion liters in the 2022/2023 season, up 31% from the last, according to industry group Unem.
Corn ethanol will account for an estimated 15% of overall ethanol output in Brazil if that projection is confirmed, Unem data showed. Most of Brazil's ethanol still comes from sugarcane.
Monday's shipment is the third DDGS consignment out of Paranagua ever, the port authority said. Two previous cargoes went to the United Kingdom and Turkey.
The first report of a Brazilian DDGS shipment was in 2019, when 27,000 tonnes where shipped via Paranagua, according to data from Brazil's waterway transport agency Antaq compiled by the port authority.
In the following year, two cargos totaling 56,251 tonnes were sent from Paranagua and Santos port, the data showed. In 2021, almost 118,000 tonnes were shipped from private ports in Sergipe and Amazonas, according to the same data set.
In the seven months of 2022, and not including Monday's cargo, about 101,400 tonnes of DDGS were shipped mainly through Imbituba, a port in Santa Catarina state, the Paranagua port authority said.
Brazil's C-S Winter Corn Harvest 85% Done as of Aug. 11: AgRural
Brazil Center-South corn harvest was at 80% a week earlier and 70% a year ago, consultancy firm AgRuyral said in a report today.
With the work finished in Mato Grosso state and very close to the end in Goias, the harvest is now concentrated in Parana, Mato Grosso do Sul, Sao Paulo and Minas Gerais states
Rains recorded last week, especially in Parana and Mato Grosso do Sul states, slowed the pace of the machines, as expected, AgRural said
Russia Wheat Export Down 13% Y/y So Far This Season: IFX
Russian has exported 4.67m tons of wheat in the season that began July 1, Interfax reported, citing comments from Russian Grain Union analyst Elena Turina.
That's 13% lower than a year earlier
Total grain exports are at 5.6m tons, down 12% y/y
Number of countries buying Russian wheat has almost halved to 23, from 45 a year earlier
Number of wheat exporters has also decreased to 41 companies, versus 79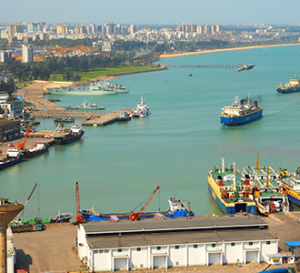 Five Grain Vessels at Ukrainian Ports Authorized to Depart
Five grain-loaded ships are authorized to leave Ukraine ports on Aug. 16, Joint Coordination Centre says in emailed statement Monday.
Propus to leave Chornomorsk carrying 9,111 tons of wheat for delivery to Constanza, Romania
Osprey S to leave Chornomorsk carrying 11,500 tons of corn for delivery to Mersin or Iskenderun, Turkey
Ramus to leave Chornomorsk carrying 6,161 metric tons of wheat for delivery to Karasu, Turkey
Brave Commander to leave Yuzhny carrying 23,300 tons of wheat for delivery to Port De Djibouti, Djibouti
Bonita to leave Yuzhny carrying 60,000 tons of corn for delivery to Incheon, S. Korea
Three more vessels — Great Arsenal, Zumrut Ana and Ocean S — have been further inspected and cleared to proceed to Chornomorsk
Inbound vessels Adnan Torlak, Filyoz, Gandsaya and Kubrosliy at Marmara Sea to be inspected tomorrow
Outbound vessel Thoe also to be inspected tomorrow
WHEAT/CEPEA: Sowing is ending in BR; possible record output presses down wheat quotations
The sowing activities of this year's wheat crop have ended in Brazil, and the national output is forecast to be a record, which is pressing down quotations in the domestic market. On the other hand, abroad, prices have been underpinned by data showing worse crops conditions in both the United States and Europe and concerns about exports from Ukraine.
In Brazil, Conab has once again revised up the estimates for wheat area and crops productivity and production this year (2022/23 season, which begins this month). The output is forecast to total 9.16 million tons, 19.3% higher than that in the previous season (2021/22). This results from both the larger area (+8%) allocated to wheat crops in Brazil, currently at 2.96 million hectares, and higher productivity (+10.5% up from that in 2021/22), at 3.096 tons/hectare.
Despite the record harvest, wheat imports continued estimated at 6.5 million tons, leading to a domestic availability of 16.38 million tons. Consumption in Brazil is forecast at 12.27 million tons, a record too. Conab forecasts Brazil to export 2.5 million tons of wheat between August/22 and July/23. Thus, ending stocks would total 1.61 million tons in July/23.
Last week the USDA revised up the world production of wheat compared to that last season, although the world consumption and ending stocks are forecast to decrease. Compared to that reported in July, production and consumption were both revised up.
Bayer says it will continue supplying Russia with agricultural inputs
Germany's Bayer BAYGn.DE said it has decided to continue supplying Russia with essential agricultural inputs, reversing course from comments made in March that supplies for 2023 would be contingent on Russia stopping its attacks on Ukraine. (Full Story)
The world's largest seed and pesticide firm said in a statement on its website that its move is aimed at "helping prevent what could become an unprecedented food crisis" and that access to Russian food is essential in this respect.
Bayer in March stopped all spending in Russia and Belarus not related to essential products and threatened to withhold essential supplies like seeds and pesticides if Moscow continued its "unprovoked attacks" on Ukraine. (Full Story)
Its about-turn on Monday comes in the wake of a deal signed by Russia, Ukraine, the United Nations and Turkey on July 22 to allow grains exports through three Ukrainian Black Sea ports previously blocked by Russia's Black Sea fleet.
Fertilizer Price Relief on the Horizon as Farmers Assess 4Q Use
Fertilizer prices continue to slide, portending price relief ahead of the US fall season. Cornbelt retail ammonia costs are down 30% since July 1 while corn prices are strengthening, which should push fall anhydrous demand up 8% year over year. Brazilian potash imports are tracking 33% above 2021 amid reports of full warehouses and muted farmer demand.
On-Farm Ammonia Price Relief in Sight, Use to Rise
Farmers looking to apply anhydrous ammonia this autumn will see year-over-year price relief while producers get a demand boost. US growers base the application decision on the ammonia-to-corn price ratio. The most profitable use rate for an Iowa corn farmer this fall is expected to rise 8.5% to 179 pounds per acre from 2021's six-year low. Retail ammonia prices, down 30% since July 1, are still historically high despite the seasonal reset in July. Ammonia gave back 2Q's Russian-war-related gains but higher feedstock costs this winter risk additional price increases. US growers directly apply about 4 million short tons of ammonia annually. Volume fluctuates with crop area, price ratios and weather.
Nutrien, OCI, LSB, and CF Industries are the largest publicly traded ammonia producers operating in North America.
Thailand to Import Fertilizers From Saudi on Supply Concern
Thailand plans to buy fertilizers from Saudi Arabia to build up the nation's inventory amid tight supply and price increases.
Government is negotiating with sellers in Saudi Arabia to secure fertilizer supply at reasonable prices, Rachada Dhnadirek, government's spokeswoman, tells press briefing Tuesday
Fertilizers from Saudi Arabia will help the government diversify source of supply for its farmers, she says
NOTE: Commerce Minister Jurin Laksanawisit said last week the ministry targets to import 800,000 tons of fertilizer from Saudi Arabia
Australia's BOM Says ENSO Outlook Raised to La Nina Alert
Australia's Bureau of Meteorology says this is due to both renewed cooling in the tropical Pacific Ocean as well as climate models indicating La Nina is likely during the austral spring and early summer, according to Climate Driver Update from the Bureau.
Historically, when La Nina ALERT criteria have been met, La Nina has subsequently developed around 70% of the time
This is approximately triple the normal likelihood
La Nina events increase the chances of above-average rainfall for northern and eastern Australia during spring and summer
India Cumulative Monsoon Rainfall 9% Above Normal as of Aug. 15
India has so far received 633.1 millimeters of rains during the current monsoon season, which runs from June through September, compared with a normal of 579.1 millimeters, according to data published by the India Meteorological Department on Aug. 15.
The country recorded the highest daily rainfall of 17.6 millimeters in 2022 on Monday
Rainfall in the southern peninsular region was at 31% above normal
The eastern and northeastern region got 16% below normal rains
Futures and options trading involve significant risk of loss and may not be suitable for everyone.  Therefore, carefully consider whether such trading is suitable for you in light of your financial condition.  The information and comments contained herein is provided by ADMIS and in no way should be construed to be information provided by ADM.  The author of this report did not have a financial interest in any of the contracts discussed in this report at the time the report was prepared.  The information provided is designed to assist in your analysis and evaluation of the futures and options markets.  However, any decisions you may make to buy, sell or hold a futures or options position on such research are entirely your own and not in any way deemed to be endorsed by or attributed to ADMIS. Copyright ADM Investor Services, Inc.
Latest News & Market Commentary