Explore Special Offers & White Papers from AFS
HEADLINES TODAY
Wheat prices overnight are down 3 3/4 in SRW, down 2 1/4 in HRW, down 3 in HRS; Corn is down 3; Soybeans down 6; Soymeal down $0.21; Soyoil unchanged.
For the week so far wheat prices are down 23 1/4 in SRW, down 3 in HRW, up 5 1/2 in HRS; Corn is down 8 3/4; Soybeans up 36; Soymeal up $1.55; Soyoil down 0.29.
For the month to date wheat prices are up 9 3/4 in SRW, up 11 1/2 in HRW, down 3 3/4 in HRS; Corn is up 4; Soybeans up 23; Soymeal up $10.80; Soyoil down 3.18.
Year-To-Date nearby futures are up 10% in SRW, up 16% in HRW, down -5% in HRS; Corn is up 14%; Soybeans up 9%; Soymeal up 5%; Soyoil up 19%.
Chinese Ag futures (JAN 23) Soybeans up 23 yuan; Soymeal down 5; Soyoil down 170; Palm oil down 130; Corn up 5 — Malaysian palm oil prices overnight were down 132 ringgit (-3.42%) at 3724.
There were no changes in registrations. Registration total: 3,084 SRW Wheat contracts; 0 Oats; 0 Corn; 322 Soybeans; 61 Soyoil; 154 Soymeal; 40 HRW Wheat.
Preliminary changes in futures Open Interest as of September 15 were: SRW Wheat up 387 contracts, HRW Wheat down 1,645, Corn up 1,734, Soybeans up 1,488, Soymeal up 2,861, Soyoil down 114.
Northern Plains Forecast: Isolated to scattered showers through Monday. Temperatures near to above normal through Monday. Outlook: Isolated to scattered showers Tuesday-Wednesday. Mostly dry Thursday-Friday. Isolated showers Saturday. Temperatures near to above normal Tuesday, near to below normal Wednesday-Saturday.
Central/Southern Plains Forecast: Isolated showers through Monday, mostly north. Temperatures above to well above normal through Monday. Outlook: Isolated showers Tuesday-Saturday. Temperatures above to well above normal Tuesday-Wednesday, near to above normal Thursday-Saturday.
Western Midwest Forecast: Isolated to scattered showers through Monday, mostly north. Temperatures above to well above normal through Monday.
Eastern Midwest Forecast: Mostly dry Friday. Isolated showers north Saturday-Monday. Temperatures above to well above normal Friday-Monday. Outlook: Isolated to scattered showers Tuesday-Thursday. Mostly dry Friday-Saturday. Temperatures above to well above normal Tuesday-Wednesday, near to above normal Thursday-Saturday.
The player sheet for Sept. 15 had funds: net sellers of 14,500 contracts of SRW wheat, sellers of 3,500 corn, sellers of 3,000 soybeans, buyers of 2,500 soymeal, and  sellers of 2,000 soyoil.
TENDERS
WHEAT PURCHASE: Japan's Ministry of Agriculture, Forestry and Fisheries (MAFF) bought 97,373 tonnes of food-quality wheat from the United States and Canada in regular tenders that closed on Thursday.
WHEAT TENDER: Saudi Arabia's main state wheat buying agency, the Saudi Grains Organization (SAGO) issued an international tender to purchase about 535,000 tonnes of wheat, with a deadline for submissions of price offers is Friday, Sept. 16.
PENDING TENDERS
SOYBEAN TENDER: South Korea's state-backed Agro-Fisheries & Food Trade Corp issued international tenders to purchase around 30,000 tonnes of soybeans free of genetically modified organisms
WHEAT TENDER: Bangladesh's state grains buying agency postponed the deadline for submission of price offers in its international tender to purchase 50,000 tonnes of wheat from Sept. 1 to Sept. 18
WHEAT TENDER: Jordan's grain state buyer is seeking 120,000 tonnes of wheat in an international tender that closes on Sept. 20, traders said.
BARLEY TENDER: Jordan's state grain buyer is seeking 120,000 tonnes of barley in a tender closing on Sept. 21, a government source said.
US NOPA August Soy Crush of 165.5m Bushels Rises From Year Ago
US soybean processing rose to 165.5m bu in August from 158.8m for the same period a year earlier, according to National Oilseed Processors Association data released Thursday by Thomson Reuters.
Crushing came in below the average Bloomberg survey estimate of 166.1m bu

"We did hear a good amount of downtime during August," Terry Reilly, analyst at Futures International, said after the report's release. "The adjusted daily crush was lowest since September 2021."

Soybean-oil inventories at the end of August fell to 1.565b lbs from 1.668b a year earlier

That's the lowest since June 2021 and below the average survey estimate of 1.651b
BrasilAgro buys $54.5 mln farm in top Brazilian grain producing state
Brazilian agriculture company BrasilAgro AGRO3.SA said on Thursday it has agreed to buy a farm in Mato Grosso, the country's top grain producing state, for 285.6 million reais ($54.5 million).
In a securities filing, the company said the price it was paying for the 10,800 hectare-property was the equivalent of 302 bags of soybeans per useful hectare, and that it would pay in two installments.
"This transaction was important for us to diversify and expand our presence in the state of Mato Grosso, one of the most important in the production of commodities in the world, and guarantee the growth of our productive area," the company said.
Oilseed Meal Exports From India Surge 24% M/m in August: Group
Shipments climbed to 282,498 tons in August, from 227,247 tons a month earlier, the Solvent Extractors' Association of India said.
NOTE: Exports totaled 164,831 tons in August last year
Rapeseed meal shipments 228,960 tons in August vs 144,308 tons in July, association said in statement
Soymeal exports 17,547 tons vs 14,618 tons
Rice-bran extract sales 11,787 tons vs 45,225 tons
Castorseed meal exports 23,670 tons vs 22,401 tons
Oilseed-meal exports climbed to 1.53m tons in five months to Aug. 31, from 1.09m tons a year earlier, helped mainly by rapeseed-meal shipments
Hundreds of seafarers still stuck in Ukraine despite grains corridor – industry
Around 82 ships with 418 seafarers remain stuck around Ukrainian ports despite the opening of a U.N.-backed sea corridor to ship grains with efforts to get the mariners sailing still stuck, shipping industry officials said on Thursday.
The agreement reached in July, creating a protected sea transit corridor, was designed to alleviate global food shortages, with Ukraine's customers including some of the world's poorest countries.
However, the initiative only involved dry bulk ships around three Ukrainian ports with dozens of other vessels including oil tankers not able to access the corridor and awaiting approval to leave while waterways remain controlled by Russia and other ports are blocked by Ukraine.
According to analysis by the International Chamber of Shipping (ICS) six ships, which had been stuck since Moscow's Feb. 24 invasion of Ukraine, had been able to leave Ukraine before the corridor was announced in July.
"The corridor was made only for the purpose of loading the grain to leave," ICS Chairman Emanuele Grimaldi told a news briefing.
"You can understand they (Ukraine) are at war and there are mines around."
At the start of the conflict in late February approximately 2,000 seafarers from all over the world were stranded aboard up to 94 vessels in Ukrainian ports.
Grimaldi said the ICS, which represents over 80% of the world's merchant fleet, had discussions this week with U.N. shipping agency the International Maritime Organization (IMO) to speed up matters.
"It is not easy and a complicated matter," he said.
There was no immediate IMO comment.
Saskatchewan Says Farmers Worried Soil Too Dry for Winter Crops
"Producers are noting that many areas are too dry to consider seeding winter cereals," the province's agriculture ministry says Thursday in a report.
Soil is drying out after several weeks of minimal rain, wind and hot weather
64% of crops have been harvested as of Sept. 12, up from 42% a week earlier
50% of durum rated in top grade
Argentina Drought Gives Wheat Plants a Beating: Exchange
The condition of wheat is worsening, with 46% of plants now growing in poor-to-dry moisture conditions, up from 35% last week, the Buenos Aires Grain Exchange said in a weekly report.
Plants are developing poorly, especially after previous damage by frosts
Dryness is also impeding applications of fertilizer and other agrichemicals
Some farmers in northern-central areas are resigning themselves to losing harvestable acreage

Rain forecast over the next two weeks must fall to avoid further losses

Southern areas are doing better thanks to rains in August, with plants maintaining a high yield potential
US Barge Shipments of Grain Rose 4% Last Week: USDA
Shipments along the Mississippi, Illinois, Ohio and Arkansas rivers increased in the week ending Sept. 10 from the previous week, according to the USDA's weekly grain transportation report.
Barge shipments of corn fell 50% from the previous week
Soybean shipments up 28% w/w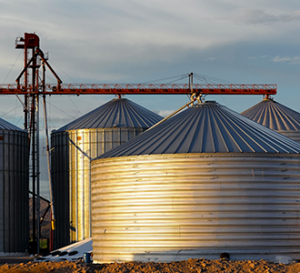 Russian Invasion Knocked Out 14% of Ukraine's Grain Storage
US-backed report warns of threat to future global food supply
Farmers 'don't have anywhere to put the grain': researcher
Russia has destroyed, damaged or seized control of 14% of Ukraine's crop storage capacity since invading in February, jeopardizing the global food supply and threatening future harvests, a US government-backed report said Thursday.
Researchers examined satellite images of 344 storage facilities — out of almost 1,400 nationwide — and concluded that Ukraine's grain storage capacity fell to 49.8 million metric tons, down from a pre-war capacity of 58 million metric tons.
Given Ukraine's role as a key food supplier for both the global market and humanitarian agencies, that loss could have widespread and devastating effects, according to the researchers. They said future harvests could shrink because farmers may cut back on planting over fear they won't have space to store their grain.
Russia's Feb. 24 invasion caused prices to spike, provoking one crisis. The storage problem could lead to a second, according to Nathaniel Raymond, executive director of the Yale School of Public Health's Humanitarian Research Lab, which conducted the research.
"Now, with a lack of storage for Ukraine's farmers, it could cause a crisis of availability in terms of Ukraine's farmers deciding to skip a planting cycle, because they don't have anywhere to put the grain," Raymond said in an interview.
The report was released by the Conflict Observatory, a group established in May with financial backing from the State Department. It uses public information to document alleged atrocities committed by Russian forces in Ukraine. The study is based on data through July and thus doesn't factor in a recent counteroffensive by Ukrainian forces.
It largely tracks with conclusions from Ukraine's agriculture ministry, which said in June that Russia's invasion had knocked out 15 million tons of storage in the invasion. In June, President Joe Biden said the US would help build temporary silos along Ukraine's borders to help export Ukraine's harvests.
Hardest-Hit Regions
The researchers concluded that the Mykolayiv, Zaporizhzhia and Donetsk regions were the hardest hit, with 40 of 75 storage facilities that sustained damage. Although those regions sit on the front lines of the fighting, the researchers didn't assess whether Russian forces targeted the sites deliberately.
The State Department is urging further investigation of the damage given that destroying grain storage facilities may violate international law.
"If agricultural infrastructure within Ukraine continues to be damaged in the war, this progress on global food security will be endangered," the State Department said in a release accompanying the report. It said a UN-brokered agreement to export Ukrainian grain via Black Sea ports has increased the global grain supply and led to lower prices.
The 75 crop storage facilities researchers identified as damaged account for about 3 million metric tons of capacity — more than the volume of the export deal, Raymond said.
"Now we have a reduction in the ability to keep crops that's more than that deal covers," he said.
French Corn Harvest 14% Complete; Corn Conditions Steady
French corn harvest has begun, with 14% of the crop collected as of Sept. 12, crops office FranceAgriMer said on its website.
That's up from 5% last week; at this time last year, the corn harvest had not yet started
The share of France's corn crop that's in good or very good condition stayed at 43%, same as in the prior week
That compares to 89% last year
China to Sell Record Pork From Reserves to Stabilize Prices
China is expected to sell 200,000 tons of pork from state and local government reserves in September, in order to boost market supply and stabilize prices, according to a statement from the economic planning agency NDRC.
China will sell pork from reserves Sunday for the second time this year
Pork sales from reserves in Sept. may set a monthly record
The pork sold from reserves is priced lower than the market levels
NDRC vows to further increase pork sales from reserves when necessary to stabilize prices
Fertilizer Prices Climb Ahead of Fall Application Season
US nitrogen prices have risen after aggressive summer fill programs, fueled by a rash of nitrogen-plant outages in Europe due to surging natural gas costs. Smaller increases were seen for phosphates after several weeks of steady prices, while the potash market remained pressured at New Orleans and inland. The threat of a rail strike was raising concerns about timely ammonia deliveries for fall application.
Urea Prices Mixed in the Wake of India Tender
Urea prices were up in India's latest tender, but not as high as some expected, and the 874,000 metric tons (mt) booked was less than India hoped for. In the wake of the tender news, urea prices fell in Brazil, while New Orleans (NOLA) prices appeared largely unchanged from the previous week. Some inland US markets continued to see a slight rise in urea, urea ammonium nitrate (UAN) and ammonium sulfate prices early in the week, while ammonia prices remained firm-to-higher amid concerns about rail-delivery delays in advance of the fall application season. Phosphate prices also showed small increases at NOLA and inland, but potash prices remained under pressure at mid-month.
Fitch Sees Higher Global Fertilizer Prices
Fitch Ratings says it increased near-term and some medium-term global fertilizer price assumptions, citing "increased feedstock prices, supply constraints and demand recovery expectations." The increased price assumptions reflect higher prices for natural gas, which is ammonia's main feedstock, Fitch says. The agency also says "We expect ammonia prices to be supported by higher-than-average crop prices in the near term, a recovery in demand from 2023, and higher production costs–particularly in Europe– while Russian supply remains constrained." Fitch also says it expects nitrogen demand to recover next year "as farmers plant increased acreage following this year's weak crop yields." Ongoing high crop prices will support demand, according to Fitch.
US Crops in Drought Area for Week Ending Sept. 13: USDA
The following table shows the percent of US agricultural production within an area that experienced drought for the week ending Sept. 13, according to the USDA's weekly drought report.
Corn area experiencing moderate to intense drought up a point to 30% in the week
Soybean drought area up 2 points to 23%
Futures and options trading involve significant risk of loss and may not be suitable for everyone.  Therefore, carefully consider whether such trading is suitable for you in light of your financial condition.  The information and comments contained herein is provided by ADMIS and in no way should be construed to be information provided by ADM.  The author of this report did not have a financial interest in any of the contracts discussed in this report at the time the report was prepared.  The information provided is designed to assist in your analysis and evaluation of the futures and options markets.  However, any decisions you may make to buy, sell or hold a futures or options position on such research are entirely your own and not in any way deemed to be endorsed by or attributed to ADMIS. Copyright ADM Investor Services, Inc.
Latest News & Market Commentary